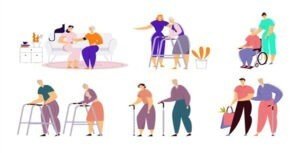 Caregiver Services Consultancy
When people we love and value get sick or something happens to them, they absolutely need an assistant in their daily life. Caregiver Services Consultancy takes advantage of all the possibilities of today's technology and provides care and consultancy for sick people in institutions or at home. Besides, the use of medications prescribed by the doctor, their nutrition, the breathing and physical movement exercises required for the patient, and the tools and equipment that will help in solving personal and social problems, are used at the right time.
Our elders who have brought us up to this day may need a helper when they get older, sick, or in their normal lives. The life of the people you love becomes more difficult because you cannot take time to work out of necessity. If the patient is ill, the recovery period is prolonged because the care cannot be done properly. As Zabata Consultancy, we are always at your side so that you can approach your elders with love and affection, find the right person with respect, honesty, experience, reference, and get the best service.
What Does the Nursing Do?
Knows the needs of the patient.
It makes regular maintenance daily.
It detects the habits of the patient.
Prepare the necessary care plan for the patient.
It supports the physical and mental illnesses of the patient under the supervision and control of healthcare personnel.
It takes the patient's blood, urine, or other samples to the laboratory.
It constantly exchanges information with the patient's doctor and family.
It ensures regular use of medicines prescribed by the doctor.
It supports them in meeting their social needs.
It provides a room layout in line with the needs of the patient.
It gives the patient the necessary position according to the health problem.
Ensures that the correct tools and equipment required for the patient are used and cleans them.
It helps the daily walks and exercises to be done …
It helps the patient to meet their normal toilet needs.
It helps in hand and face cleaning.
It provides easy communication with people.
She/He helps the patient or feeds the patient while eating.
Closely follows technological developments related to the profession
The people who will be nursing must have some characteristics. These people should be hardworking, energetic, careful, honest, flexible working hours. It should be very careful to clean. She/He should always be friendly, tolerant, patient, and respectful in her relations with people. She/He must be aware of the responsibility of her work and have a calm and confidential personality. As Zabata Consultancy, we are proud to serve you with our professional team that is aware of modern medicine and its requirements respect the basic values ​​of patients and their relatives, and is focused on patient satisfaction.
Caregiver Services in Turkey, Caregiver Services in Istanbul, Antalya, Bodrum, Muğla. Caregiver  Company in Turkey