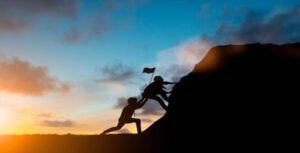 Everyone knows more or less about what coaching is: successful athletes around the world wouldn't be so successful today without coaches. Nowadays, apart from this classic definition of coaching, there is also a concept called life coaching. But what is life coaching?
A life coach is a person professionally trained to help you maximize your full potential and reach your goal. They give you confidence like a counselor, and they stand by you like supportive friends in decisions you make for your life. They are the people who will force you to set goals for yourself, increase your awareness of your responsibilities and help you to be a much better self on your way to the goal.
Life coaches undergo a long and demanding training that teaches them how to ask the right questions, how to reach the highest level of communication, and how to reach the source of their goals and needs. Most life coaches are usually specialized in specific coaching methods, so you must do your research and communicate with your life coach beforehand. In this way, you will provide yourself a special service
The life coach provided by Zabata counseling encourages people in various professional and private – personal – matters and advises them where necessary. Life coaching; is different from giving advice, counseling, and therapists. Life coaching; is different from giving advice, counseling, and therapists.
A life coach analyzes your situation and identifies the obstacles you face and any other potential challenges that may arise. In this way, it makes things easier for you by creating a specially designed plan for you to reach your goals.
We Provide Partnership and Accountability as Your Life Coach.
We will meet with you in the next session, we aim to establish an elbow-to-elbow relationship, coordinating with your plans beyond the relationship.
Your life coach, who will be provided by our company, is in constant communication and talks with you, not only from meetings to meetings. For example; It helps you relax after a stressful day or meeting.
Why do you need a life coach?
Make your way to your goal clear – Right now, focus on goals that will completely change your life and bring you to a better state of yourself.
Achieve your goals in terms of health – Become more aware of your responsibilities with the energy you get from a coach who challenges you to be better. Push your limits for a healthier life.
Take steps to become a more influential leader – Cross your limits, strive to gain the skills to persuade, inspire and connect with people.
Be ready for change – It is never clear what life will bring you tomorrow. Gain the courage and confidence to overcome any challenges and unexpected changes that may arise.
Take your business to the top – Leave your safe zone, be confident, don't be afraid to take risks to increase your profits, and get better financially. Of course, it is within strategic planning!
To achieve all these and more,reach out to the life coaching service of Zabata Consultancy right now.