Fixed Cleaning Staff Supply
admin
A cleaning service provided by those who know their job well in the business properly and correctly is a requirement that improves the quality of life of the employees, enables them to be more efficient in their work, thus enabling your business to be one step ahead in the business world competition. As Zabata Consultancy Services, we are always at your side in the Fixed Cleaning Staff Supply.
However, this cleaning job should be done regularly by professionals. For this, it is necessary to agree with a competent company that has been dealing with this business for years to provide cleaning services. Zabata Consultancy guarantees that it will provide you with the best service for your cleaning personnel needs.
For the Fixed Cleaning Staff Supply, we always carefully select job candidates and direct them to you. Our aim is to ensure that you work with people who are experts in their fields, have a clean record, have sufficient education, and have responsibility. After the fixed cleaning personnel are provided, the necessary information about the cleaning personnel is shared with you, thus preventing any problems that may occur. Criminal records of the personnel, telephone numbers that can be called in case of a possible case, CV of the personnel, insurance information, and much other information are among the information we share with you.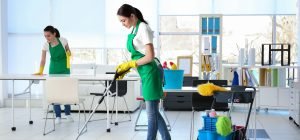 Fixed Cleaning Staff Supply Services
Fixed cleaning staff will ensure that your cleaning works are carried out regularly and you will not have to tire yourself about this issue again. A goodcleaning service will also attract the attention of other businesses that want to work with you, a good first appearance will instill confidence in the other party, and will make your business reach even better points. In short, a professional cleaning staff or cleaning team will bring you more than you can think of.
Zabata Consultancy successfully meets the needs of our customers who are looking for fixed cleaning personnel in Ankara, Istanbul, Çorlu, Bilecik, Adana, Gaziantep, Eskişehir, Antalya, Kocaeli, and many other provinces. We provide experienced,expert cleaning staff to work in many institutions and organizations such as fairs, seminars, concerts, publicity, conferences, product promotion organizations, business centers, apartments, hotels and hostels, factories, hospitals, and rehabilitation centers. We also provide cleaning personnel who speak foreign languages ​​upon request. Our main goal is to fully meet your wishes and needs.
Thanks to the connections and experience we have gained by working successfully in our field for years, we provide you with the most reliable service. We also help you solve your personnel-related problems. In short, we do not finish the job and leave with the recruitment of personnel.
We also offer private security services for all your business and living spaces.