Villa Rental
admin
In recent years, people want to take a vacation and discharge themselves in order to be a little bit of a sigh of relief amid the increasing intense work tempo and the stress of city life. The only thing needed for this is a correct plan. Nowadays, vacationing in villas is a trend that is increasingly gaining a permanent place among people's holiday options. Keeping away from the stress and chaos of the city and offering you the opportunity to relax, the villas offer an attractive holiday option for crowded families with children and newly married couples. Thanks to the villa rental service, this holiday option is now more easily accessible. Thanks to ourvilla rentalconsultancy service, you can find the most suitable and economical villa rental service for you and spend your holiday comfortably.
Our villa rental consultancy service provides services for teams who want to shoot movies and TV series, as well as those who want to take a vacation. Depending on your wishes and the budget you inform us, we list the most suitable options for you after the necessary market research. When necessary, we make trips between the options we have and help you evaluate the options on site. If requested, we also offer private security services for the villa you rent.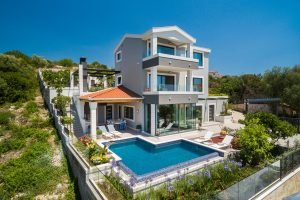 Our Villa Rental Consultancy Services
Our villa rental consultancy serviceprovides services in Antalya, Kaş, Fethiye, İzmir, Sapanca, Marmaris, Kalkan, Alanya, Ayvalık, Alaçatı and many other provinces and districts. She/He wants to help in villa rental service in every corner of Turkey and we continue to work for it.
Villa rental pricesare among the issues that attract the most attention of customers. Villa rental prices vary depending on the size of the villa, its location, equipment and duration. Our consultants bring you the most affordable rental service among different villa options such as villas with jacuzzi and heated pools, villas with playgrounds, upon request.
Zabata Consultancy works with an expert and responsible team that will never fail your trust. This is one of the most important reasons that has kept us as the number one in consulting services for years and still keeps us pursuing the better. Turkey and captures the world due to its quality and reliability in every job that you rarely do that in the best way şirketlerinde counseling. If you also need consultancy services on villa rental and are looking for a reliable address, you do not need to tire yourself, Zabata will help you in every way. You can reach us right now from the contact numbers given on our website.